25.-26.6.2015, Studio TON at the School of Music and Dance, Academy of Arts

SYMPOSIUM
Contemporary playwriting between
dramatic and postdramatic tendencies
hosted by
Department of Theory and Criticism at the Theatre Faculty of the Academy of Performing Arts in Prague (DAMU)

On June 25th-26th 2015, the Department of Theory and Criticism at the Theatre Faculty of the Academy of Performing Arts in Prague (DAMU) is organising a two-day symposium on the topic of Contemporary playwriting between dramatic and postdramatic tendencies.
This international symposium will focus on issues concerning tendencies in contemporary texts written for theatre in various European countries.
The programme of the symposium will be divided into several sections. In the first section, the symposium guests will talk about contemporary texts written for theatre in various European languages, identifying their dramatic and postdramatic characteristics. During the following panel discussion the Czech and international specialists will attempt to recognize similar or different tendencies in contemporary theatre texts in Europe and put this subject matter in the context of the contemporary theory of the postdramatic theatre and its transformation.
The symposium will include a discussion with theatre makers, directors, playwrights, and dramaturges experienced in staging contemporary plays. There will also be a discussion with translators of contemporary texts for theatre from European languages into Czech.
Students from the Department of Theory and Criticism will perform a staged reading of several excerpts from contemporary plays under pedagogical supervision.
The symposium is one of the accompanying events of the 13th Prague Quadrennial of Performance Design and Space (18th-28th June 2015) and the Zlomvaz student festival (17th-25th June 2015) which will both take place largely on the DAMU premises.


PROGRAM

THURSDAY, 25.6.2015, 10 am
Studio TON at the School of Music and Dance, Academy of Arts, Malostranské náměstí 13
TENDENCIES OF EUROPEAN DRAMA IN 2000-2015
Patrice Pavis (France):
Why do I not write post-dramatic texts?
Davide Carnevali (Italy):
Is there a post-dramatic drama?
(About "fable" and representation of the world)

Piotr Olkusz (Poland):
The forgotten art of interpretation?

Lenka Jungmannová (Czech Republic):
Czech new drama

Teresa Kovacs (Austria):
Elfriede Jelinek and Ewald Palmetshofer "in between"
Sedimentations, enclosures and overlyings of dramatic formations in contemporary German language drama
2.30-5 pm
CONTEMPORARY THEATRE TEXTS: FROM DIAGNOSIS TO PROGNOSIS
Panel discussion with guests of the symposium (in English)
Moderated by Jan Jiřík and Daniela Jobertová


FRIDAY, 26.6.2015
Studio TON at the School of Music and Dance, Academy of Arts, Malostranské náměstí 13
9-10 am
WORKING BREAKFAST
Presentation of various research projects and platforms:
Pia Janke, Forschungsplattform Elfriede Jelinek: Texte - Kontexte - Rezeption, Universität Wien
Martina Schlegelová, Theatre Letí, Centre for Contemporary Drama
Davide Carnevali, OUTIS - Centro Nazionale di Drammaturgia Contemporanea, CENDIC - Centro Nazionale di Drammaturgia Italiana Contemporanea
Kateřina Bohadlová, Geisslers Hofcomoedianten

10am - 12.30 pm
CONTEMPORARY THEATRE TEXT IN THE SPOTLIGHT: APPROACHES, OPINIONS, EXPERIENCES
Round table with Czech theatre artists (in Czech with translation)
Guests: Marián Amsler, Lenka Kolihová-Havlíková, Katharina Schmitt, Renata Venclová, Roman Sikora, Vladimír Čepek
Moderated by Kateřina Bohadlová und Martina Schlegelová

1.30 - 3.30 pm
TRANSLATION IN THE SHADOW OF THE ORIGINAL: DIFFICULTIES AND CHALLENGES IN TRANSLATING CONTEMPORARY THEATRE TEXT
Round table with Czech translators (in Czech with translation)
Guests: Tereza Krčálová, Kateřina Neveu, Jan Hančil, Tereza Sieglová,
Kateřina Bohadlová, Barbora Schnelle
Moderated by Zuzana Augustová und Marcela Magdová


Organization: Daniela Jobertová, Zuzana Augustová, Jan Jiřík, Kateřina Bohadlová, Martina Schlegelová, Vít Pokorný, Marcela Magdová


Partners of the symposium:
Forschungsplattform Elfriede Jelinek: Texte - Kontexte - Rezeption, Universität Wien
French Cultural Institute in Prague / Institut français de Prague
Italian Cultural Institute in Prague / Istituto Italiano di Cultura di Praga
Austrian Cultural Forum in Prague / Österreichisches Kulturforum Prag
Arts and Theatre Institute / Institut umění - Divadelní ústav
Prague Quadrennial / Pražské Quadriennale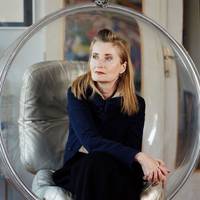 Forschungsplattform Elfriede Jelinek
Texte - Kontexte - Reflexion
Universität Wien
Hofburg, Batthyanystiege
(unter der Michaelerkuppel)
1010 Wien